If you are looking for a modern and result-driven digital organization, then you are in the right place! The Split Reef team is one of the premier digital marketing and development companies in Ohio. We are dedicated to strategically partnering with businesses to ascertain new heights in the digital world.
As a matter of fact, our determination and dedication in pushing the boundaries of our services have managed to secure our 4th Clutch review. We recently teamed up with a law firm to help build a website for their business. Of course, using a website to establish your online presence is a great idea to digitize your business, but we also supplemented this effort with our high-quality law firm SEO service.
We started the project by meeting up and discussing the client's goals and visions for their site. After that, we immediately developed the solution and proceeded to conduct keyword research in order to help them rank organically. Our team still delivers SEO work for the client and produces monthly reports.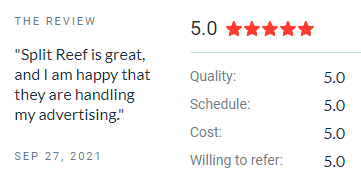 The site and the whole project are relatively new so the impact and results of our services are still too early to determine. According to the client, as early as today, they were able to see results from their rankings ever since partnering with us.
The Owner of the law firm, Matthew Coffman has this to say about our team:
"Their results. Numerous law firms have had great success using Split Reef's services. I keep an eye on various rankings and law firms using Split Reef are generally at or near the top. Split Reef is great, and I am happy that they are handling my advertising." 
It always warms our hearts to hear encouraging and positive feedback from our clients. Our team is honored to work with you and we are very happy that the collaboration was a success. We are looking forward to a continued fruitful partnership in the future.
For more information about us, you can check us out at the Top Design Firms' website. We are one of the top SEO companies on their platform and it would mean the world to us if you can go out and check our profile on their site today
Do you have an idea in mind? Let's turn that into reality today! Call our team today and let's discuss your project and how we can help you achieve it.

Split Reef is a modern, results-driven digital organization always ready to support clients in their search for digital supremacy. With Split Reef, your budget isn't going to hold you back from partnering with us to make your project successful. Our offices are located in Columbus, Ohio and Jacksonville, Florida.