In today's market reaching a consumer can be a tough task for businesses to accomplish without a good video marketing strategy. Many businesses try using gimmicks and other tools to bypass proven video marketing services or a video marketing agency. Wyzowl State of Video Marketing concluded in a 2020 survey that 99% of all marketers who video, will continue to do so through 2020. On top of that, 95% of the marketers said they were going to maintain or increase their current budgets on their video marketing strategy. Now you are probably asking, "Well how can the average business keep up?" or even, "Do I even need a video marketing agency to assist me?"
Understanding the landscape
Videos ranked #1 in consumers' favorite type of content to see from brands on social media.
We also need to understand when seeking to improve our video marketing strategy is our customer; 48% of consumers want videos to reflect what they are interested in.
Another important piece of information, 85% of all internet users in the United States watched online video content monthly, while countries like Turkey and Saudi Arabia were at 95% of all internet users.
While Optinmonster(2019) found that video marketing services get 66% more qualified leads per year, video marketers achieve a 54% increase in brand awareness.
What about a good ROI? Over 85% of video marketers report a good ROI.
With numbers like this the only question should be "where can I find a reliable video marketing agency?"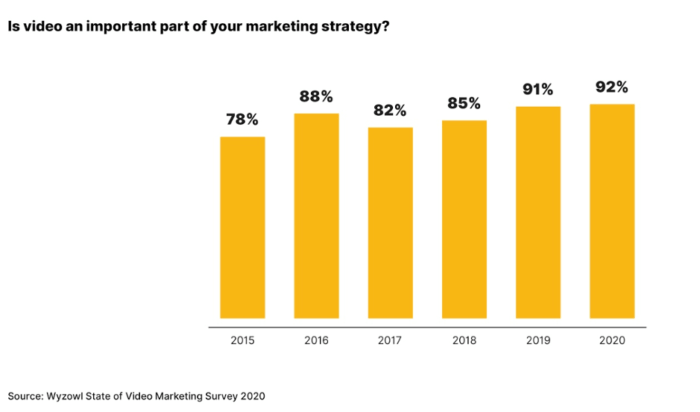 Finding the right video marketing agency
When looking for a video marketing agency to work with, we try to find one that is going to fit within our budget but still provides our needs. As well we want a company that is consistent and there to offer support when we need it. Consumers also understand that one size does not fit all. The video marketing strategy and needs of a family owned company in rural America that has just begun their conquest into video marketing is not going to be the same as like Microsoft (with $219.1 million annually on video their video marketing strategy) or even a company with a few years in the arena still reeling in fresh new clients; are going to be no where close to the same. So why should you have to pick between a limited caliber of options designed for either a giant or a minnow when you just want a product and a package that works for you?
Well do not get down in the dumps, Split Reef has assembled a team dedicated to video marketing services that are on the leading-edge of digital development and marketing. Through our quote system customers can name the  video marketing service they are looking for, along with their budget to begin personally tailoring the video marketing strategy for them. Why continue to try to break waves on your own? When you can turn to a internet marketing agency that doesn't just look for a paycheck but instead seeks to bring their partnered businesses to new heights.

Split Reef is a modern, results-driven digital organization always ready to support clients in their search for digital supremacy. With Split Reef, your budget isn't going to hold you back from partnering with us to make your project successful. Our offices are located in Columbus, Ohio and Jacksonville, Florida.