Backing their work with code competency and application experience, Split Reef has scaled new heights in a short period of time well perceived by GoodFirms and sits amidst the top web design companies in Columbus.
Come and have a good look at the Split Reef's GoodFirms' profile to get to know more about their path-breaking and instinctive execution.
Split Reef: A Brief Outline
Though newly founded in 2019, Split Reef is already turning heads with its innovation and comprehensive analysis to provide robust solutions.
Holding a belief that complications are just a state of mind, their team of dedicated and industrious professionals always stand ready, showing constant willingness to deliver solutions to business, whether they require a one-off consultation or a complete digital makeover.
Exercising a direct approach to convey the logic and course of execution succinctly, Split Reef believes in keeping their clientele briefed to facilitate more inclusion.
Intending to unmask unrealized potential, the firm has been pivotal in helping businesses to scale new heights through responsive web-design tactics, code competency, and practical experience in application development.
GoodFirms' Approach to Analysis:
GoodFirms is an online research and review portal that ranks diverse businesses by conducting a thorough assessment of their administration based on three parameters, namely, quality, reliability, and ability. The firms listed in the category-based list of service providers include the companies that have been providing exceptional services based on these criteria in their respective domains.
The team at GoodFirms researched Split Reef and found it thriving in the digital development and digital marketing arena.
Following is a brief of the report for the evaluation, apportioned into its major service segments.
Refined Designs for Responsive Websites:
With the internet growing and getting more mobile, websites have crawled from desktops to laptops and can now be accessed in our palms. It has become more crucial for businesses that their websites adept enough to respond to devices of all types and configurations.
A shrew and responsive web design will help any device access a website from anywhere. Since the whole woke world has gone mobile, a mobile-first design is a right way to go, and at Split Reef, the exact is achieved through cutting-edge tech adaptive coding.
As the world has advanced, so have the practices at the firm with their solutions delivered on CSS3 and HTML 5 doing away with the obsolete programming languages.
It is least surprising that Split Reef's vigorous and continued efforts have earned them a place in the list of the top web design companies in Columbus at GoodFirms. 
Translation Solutions for Transcendent Mobile Apps:
Understanding that every brand has its own identity and the corresponding custom mobile app development solutions must resonate with it, Split Reef has long parted ways with deliverables that resemble to be off-the-shelf.
Having adopted practices enabling them to be able to deliver inimitable solutions through artisanal coding, their team of developer's help businesses carve a niche for themselves and be future-ready through innovation.
An expert unit of techies proficient in languages such as Swift, Java, C++, HTML5, Kotlin, and PHP are always geared to create robust and riveting mobile phone applications.
With their comprehension based solutions and ingenuity in approach, Split Reef has registered itself in the list the best mobile app development companies in Ohio at GoodFirms.
Comprehensive Services for Categorical Digital Marketing:
Split Reef aims at busting the myth that digital marketing is just a businesses' name popping up on every website page ever accessed.
The marketing specialists at the firm are well-versed with the science behind that unravels what the data holds within. Using this understanding, they formulate strategies that will best suit a business, implement them, and help you visually analyze them through analytics.
Service not only limited to Search Engine Optimization or Social Media Promotions; their team of noetic marketers provides comprehensive solutions that also encompass content as well as conversion rate optimization. They ensure that your web copy is always fresh, aligned with the latest industry standards bridging gaps between the visitors and customers.
Rachel Sabo, Owner and Attorney at The Friedman Firm LLC, was impressed with Split Reef's strategy and execution that she could not hold back recommending the firm to others with a 5-star rating on GoodFirms.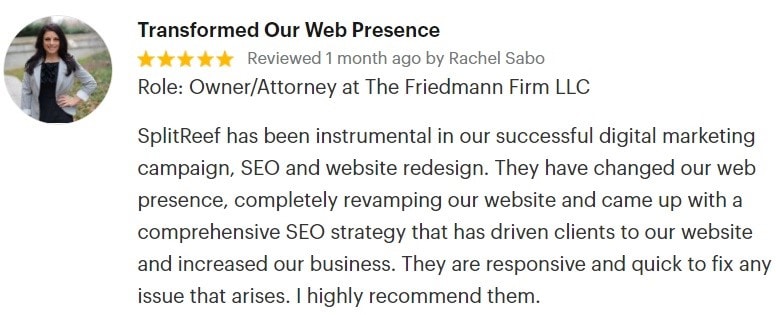 The research team has little doubt that Split Reef, with their, consistent delivery and innovation, will soon rank among the record of top digital marketing companies in USA at GoodFirms. Digital Agencies
About GoodFirms
Washington, D.C. based GoodFirms is a maverick B2B research and reviews company that helps in finding web design, and web development companies rendering the best services to its customers. GoodFirms' extensive research process ranks the companies, boosts their online reputation and helps service seekers pick the right technology partner that meets their business needs.

Split Reef is a modern, results-driven digital organization always ready to support clients in their search for digital supremacy. With Split Reef, your budget isn't going to hold you back from partnering with us to make your project successful. Our offices are located in Columbus, Ohio and Jacksonville, Florida.