At Split Reef, we pride ourselves in facilitating clients' growth along with their quest for achieving digital supremacy. As a full-stack mobile app development company, Split Reef doesn't let geographical boundaries limit the possibility of helping clients across state lines, borders, and countries.
We are incredibly proud to announce that all of our hard work and dedication is paying off as Split Reef has been recognized as an App Industry Leader by MobileAppDaily in its exclusive annual report of Top Mobile App Development Companies of 2019.
Why MobileAppDaily Chose Split Reef?
MobileAppDaily is a tech-based news and media portal that solely covers all the latest happenings taking place in the mobile app industry. In addition to the annual reports featuring only the top leaders of the app development domain, MobileAppDaily also offers well-researched mobile app reviews, disruptive insights from the world of mobile apps, candid CEO interviews, in-depth app walk-through videos and much more.
The report is curated based on various pre-defined parameters including case studies, online market presence of the brand, client testimonials, and technology expertise. Split Reef has successfully surpassed all these norms and has proved itself worthy to be ranked among the leading names of the application development industry.
Here's an abstract of our profile on MobileAppDaily: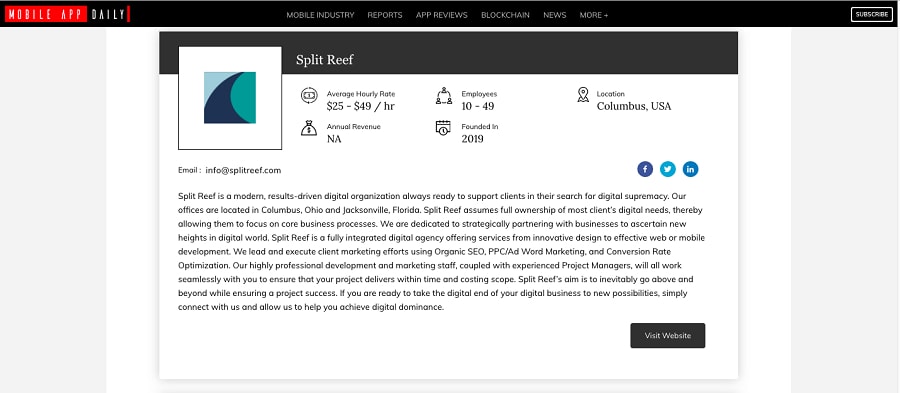 CXO Quote:
Split Reef's team is really excited about this recognition by MobileAppDaily and aims to maintain this consistency in delivering advanced as well as innovative app development expertise to businesses across the globe.
So, if you have an app idea in mind be it custom app development or responsive web design, leave it to us to transform it into a reality. Get in touch with the strategists now!

Split Reef is a modern, results-driven digital organization always ready to support clients in their search for digital supremacy. With Split Reef, your budget isn't going to hold you back from partnering with us to make your project successful. Our offices are located in Columbus, Ohio and Jacksonville, Florida.